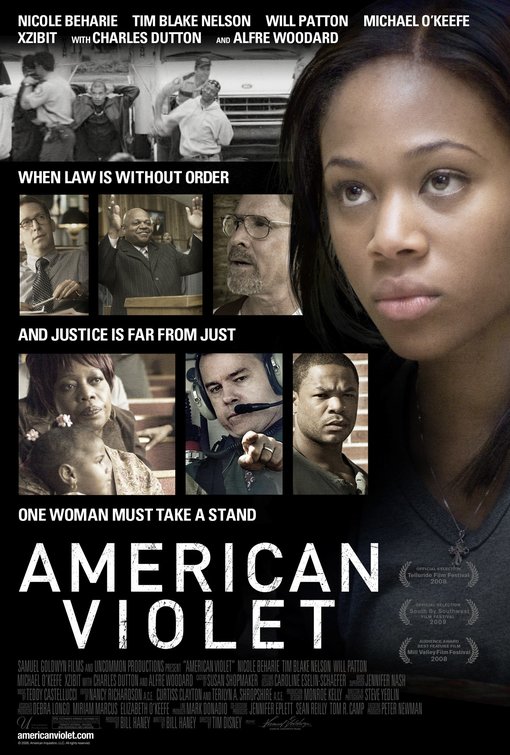 Tonight, I went to the New York screening of
American Violet
, a movie about an ACLU case in Texas against a District Attorney for racial profiling in drug cases. I was skeptical about the movie. I was worried about it being preachy and over-dramatic, though my friend, Richard, invited me, and I wanted to support him and his organization. And I couldn't have been more wrong. The movie is stunning.
This movie showcases activism at its best. A young woman takes on the case as the lead plaintiff with the encouragement from the ACLU to stand up for her community, her neighbors, and her family. Wrongfully convicted of selling drugs in a school zone, she endures great pain and difficulty in the name of what's right. She displays so much courage that had a I not known it was based on a true story, I would have believed it was invented in Hollywood.
A complete surprise, the woman whom the story is based on was there in the audience and spoke after the movie. Her eloquence and grace in the face of such trying circumstances is so inspiring that I left wondering how on Earth I could ever complain about anything in my life. While many people have given their lives to stand up for justice, the main character of American Violet didn't have a choice. Injustice was her life, and the life of those all around her. If she wanted to live free, truly free, and move forward she had to stand up. She had no choice but to fight.
American Violet
is a testament to the power of story-telling and narrative, the ability to connect people across miles and circumstances, despite age, race, culture or gender. Stories, and their telling and retelling, build empathy and strength. Films about social issues have the ability to entertain and inform; they build community. And to solves problems as large as the issues of racism and substance abuse and incarceration, we need community.
As I walked back to my apartment, I was reminded of
Anne LaMott
's book
Bird by Bird
, my favorite book about writing and story telling. At one point in the book, Anne talks about the writing classes she teaches in the Bay Area. And her one piece of advice to her students that I always think about revolves around courage in writing. If you have the courage to live through a tough situation and free yourself, then have the courage to write it down and share it with others because in telling your story, you just might help set someone else free. I can't imagine a more beautiful example of that principle than
American Violet
. Opens in theatres everywhere April 17th.