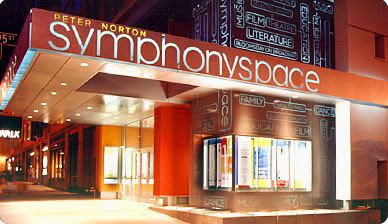 Last night my friend Richard and I stopped in to a piano competition at Symphony Space, a performing arts organization that has an incredible slate of programming. I'd never been to a piano competition and wasn't sure if I'd like it but it was only $5 so I figured it was worth at least checking out. Little did I know that just down the street there were several virtuoso piano players offering up a concert for a next-to-nothing ticket price.
All over the country, these piano competitions are happening any given night of the week. Performers are young and yet undiscovered musicians who have gone to conservatory and now enter as many competition as they can in an effort to boost the potential of their careers. They dedicate their lives to their art. And so few of them ever make it despite the immense talent within each of them. And to get by they work at The Gap or as temps in high rise office buildings. Think of the incredible artistic ability of temp staffs buried in the gray cubicles of New York's law firms and financial institutions.
So where is the hope in this? Hundreds, maybe even thousands, of young, talented musicians will never be discovered, never receive any acclaim, never achieve their dream of making their living through music. Or can they?
I emailed a friend of mine who works at Teach for America. A handful of corps members teach art or music in public schools. So look at the gap: a huge numbers of schools suffer from a complete lack of music and art education programs and a huge number of people in this world want to earn their living from music. I understand that most of these students want to earn their living from performance though wouldn't they prefer to have a teaching job rather than taking phone messages and selling mass-market clothing until their time in the spotlight arrives?
It seems to me that this is a gap waiting to be filled. I know that funding for art and music is tough to come by but with all this talent in the world and all the students who want and need an arts education, we can't let funding stand in the way. You can bet that I'm going to be looking into this further. There's too much kismet to let this challenge continue unanswered.